We are a fun and safe place for your child to learn and grow. Our experienced teachers are dedicated to providing a nurturing environment where your child can develop social skills, creativity, and academic abilities.
At our kindergarten, we use a play-based approach to learning that helps your child engage with new concepts and develop a love for learning. Our curriculum includes activities such as arts and crafts, music, movement, storytelling, and hands-on exploration of the world around us. Our small class sizes allow us to provide personalized attention and individualized learning plans for each child.
Junior school is not just exposure to school days that introduce a child to the world of education but it makes learning worthwhile. In this foundational year, children nurture the sense of wonder as they get a feel of what school is about while enhancing their physical, intellectual, and social/emotional development. In short, it's the commencement of lifelong learning.
Our students in the middle school are 6C learners; they are critical thinkers, communicators, cooperative, caring, creative and courageous in all they do. These learning skills are inherent in, and intrinsic to, the preparation of children for each stage of their academic careers and beyond. Lessons are planned to incorporate a values-based learning approach which develops a sense of international-mindedness, empathy and a deep understanding of the world around them.
The focus of the Secondary School is aimed at supporting every student, whether they choose a traditional academic route or a more tailored bespoke curriculum.

Our whole school ethos of 'enjoy, aspire, achieve' underpins the day-to-day practice within the Secondary School.
At SFWS we follow the CBSE board whilst also delivering content specific to the students' needs. All subject teachers are CTET qualified with rich experience and work within their specialisms; streams available are Science – Medical / Non- Medical, Commerce, Humanities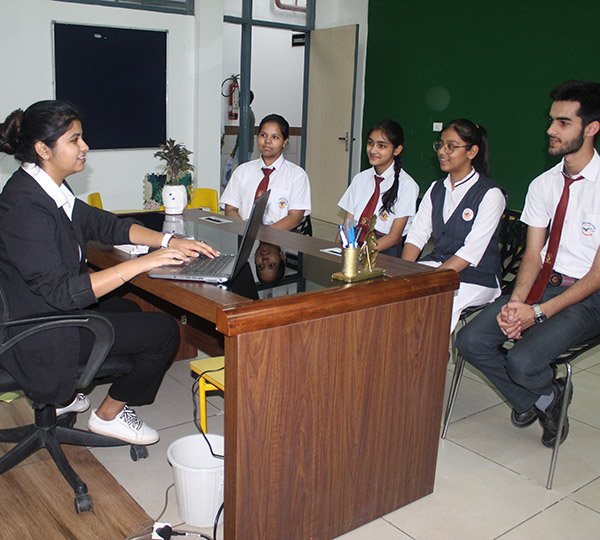 SFWS works with students and their families by identifying the student's interest areas, learning style, courses of interest, group interactions, workshops and one on one sessions for Grade 11 and 12 students. Sessions are organised by Indian and foreign universities on our campus for students to gain clarity on their education system, courses and other opportunities and requirements.
We have a team of mental health experts, wherein the School Psychologist and the Special Educator work collaboratively with the class teachers, subject teachers and parents to support learning, social & emotional development, behavioral and special needs of the students.